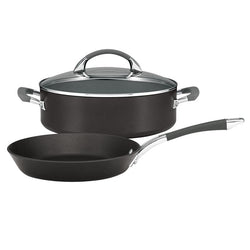 Anolon Endurance+ 26cm Skillet and 28cm Sauteuse
Whether for company or for family meals, these generously sized pan is excellent for assembling a gala dinner of thick juicy pork chops, coq au vin, or steaks such as filets mignon. It's also perfect for dishes that start browning on the stovetop and finish in the oven, like whole pork loin, braised lamb shanks or veal shoulder. Many recipes direct the cook to brown the meat or chicken in batches.
With this wonderful sautéuse, you'll have enough surface area to cook ingredients all at once, saving time and creating an impressive presentation.
The large lid allows steam to collect, which hastens the cooking process even as it locks in nutrients and moisture.
This 2 piece set is a great starter pack for those wanting to the Gourmet Authority in Cooking. Contains: - 28cm/4.7L Covered Sauteuse - 26cm Open French Skillet
There's a reason why Anolon is the Gourmet Authority - we take the time to make quality, precision cookware that creates the perfect balance between functional beauty and the durability you need for everyday cooking.
Twice as hard as stainless steel and metal utensil safe, the hard-anodised construction of these Anolon Endurance+ skillets provides exceptional heat conductivity and distribution.
The premium non-stick provides maximum food release and is easy to clean. Riveted handles for strength and durability, with SureGrip™ for ultimate comfort. 
Use and Care:
Induction Compatible: Yes
Dishwasher Safe: Yes
Oven Temperature: 200C / 400F °C
Lifetime Limited Warranty
Style Number: 840490