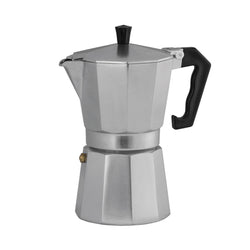 Avanti Classic Pro Espresso Coffee Maker - 300ml / 6 Cup
The Avanti® Classic Pro Espresso Maker with its classic shape and its cast aluminium construction is both stylish and functional. This two-part stovetop brewer delivers delicious, rich espresso in just minutes and is suitable on gas or electric stovetops.
Cast aluminum construction
Ergonomic stay cool handle
Easy-pour, drip free spout
Timeless styling
Functional design
Dishwasher safe
Use & Care
Separate all components and hand wash with warm soapy water.
Clean filter funnel with warm water and washing-up liquid. A washing-up brush may be helpful in removing coffee residue.
Avoid abrasive cleaners and scourers when hand washing.
Wipe dry with a soft cloth.
Do not reassemble the product until all parts are completely dry to avoid oxidation.
Whilst this product is dishwasher safe, hand washing is recommended.
Style number: 16550