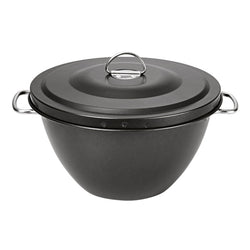 Avanti Non Stick Pudding Steamer - 2.8L
The Avanti® Pudding Steamer is perfect for creating traditional Christmas pudding as well as summer and rich winter puddings. Constructed from durable carbon steel this is an excellent conductor of heat to ensure perfect results. It features riveted side handles and a locking lid. The Whitford non-stick coating ensures easy and quick food release and effortless clean up every time.
2.8L capacity
Whitford non-stick coating
Locking lid with loop handle
Riveted handles for easy handling
Easy to clean
Compatible with conventional gas, electric and induction cooktops
Includes Christmas Pudding recipe
Use & Care
To open pudding steamer, place on a flat surface. Hold onto one of the side handles for support. Align with engraved circle symbol on the side of the lid to the engraved triangle on the top of the steamer base. Push up and lift to open.
Place mixture in steamer and close lid. To close lid, align symbols on the lid and side of steamer base and press down firmly on the lid until it clicks into place. To lock the lid, turn it so that the arrow at the top of the steamer base is NOT aligned with ANY of the circles on the side of the lid. Gently test the lid is locked in place by tugging the loop handle on the lid before steaming.
Place pudding steamer into a saucepan which has been filled with water to just over half of the height of the steamer. Place lid on saucepan.
Cook according to the recipe instructions. Do not overfill the steamer with the mixture as it expands during cooking and will become difficult to remove.
Regularly check the water level during cooking and top up to initial level as and when required. DO NOT let saucepan to boil dry.
After cooking time, using oven mitts, tug at the loop lid handle to check that the lid has not become detached during cooking. Remove steamer from saucepan using side handles and not the lid.
Using a not stick nylon or silicone spatula or palette knife, briefly scour around the edges of the pudding and then turn upside down onto a serving plate.
Do not use directly on stovetop or in microwave ovens.
Do not allow direct contact with flame
Do not use vegetable cooking sprays as this can damage the non-stick coating and the performance of the steamer. Always follow recipe instruction for greasing and flouring.
Style number: 15869