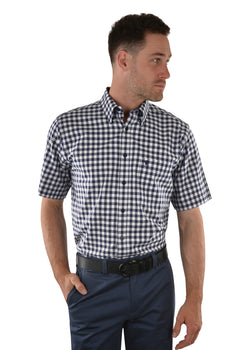 Thomas Cook Men's Edward 1-Pocket Short Sleeve Shirt - Navy
Description:
The Thomas Cook Men's Edward Short Sleeve Shirt features yarn dyed check with herringbone texture, contrast chambray facing on inside collar stand, long shirt tail, back pleat for comfort, concealed collar peak buttons and removable collar stays.
Material: 100% Cotton Yarn Dyed Check
Style Number: T1S1113006

Measurements (Guide Only):
PLEASE NOTE: All size results are in cm's unless stated otherwise. The size guide is to assist you in getting the right fit, the first time. For accuracy, it's best to measure your body, we do not suggest measuring your clothes.